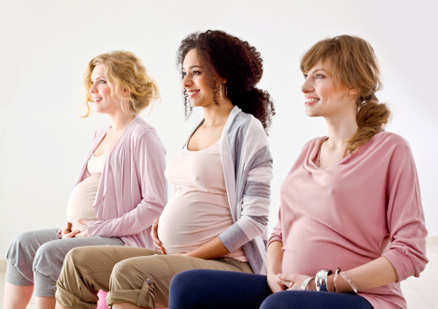 Step into the journey of pregnancy and parenthood with confidence. Our educational programs let you connect with other parents while you learn about pregnancy, labor, birth, breastfeeding, baby care, safety, and parenting.
Open to members and non-members. Please call 1-866-248-0721 for more information.

Health education classes & resources
CenteringPregnancyⓇ
CenteringPregnancy is prenatal care that includes a one-on-one health check-up with extra time and attention in a group setting. CenteringPregnancy is a way for you to learn and share your experiences with other expectant parents while being involved in your own care. For more information, please call our CenteringPregnancy coordinator in Walnut Creek: 925-779-5103.
CenteringPregnancyⓇ Walnut Creek
Late pregnancy – preparing for postpartum

Explore strategies for managing the physical and emotional changes you can experience during the first six weeks after your baby is born. Prepare for the changes in your relationship as baby becomes a part of the family. Take this class when you are 26+ weeks pregnant. Members only. Available in Spanish.
Breastfeeding
Breastfeeding offers many health benefits for you and your baby. Learn how to position your baby for optimal nursing, how to tell if your baby is getting enough milk, and ways to prevent and overcome common breastfeeding discomforts and challenges. Open to the community. Available in Spanish.
Prenatal hospital tour
Take a tour of our Labor & Delivery and Mother/Baby units at Antioch or Walnut Creek Medical Centers at any stage in your pregnancy. Children ages 8 to 12 may attend. Members only. Available in Spanish.
Newborn care
Wouldn't it be nice if babies came with instruction manuals? In this class, we'll teach you the information and skills you need to feel confident about caring for your newborn. We'll cover essential topics such as feeding, bathing, diapering, and when to call your physician. Open to the community. Available in Spanish.
Preparing for childbirth
Few events are more exciting than the birth of your baby. Get prepared by learning what to expect before, during, and after delivery. Practice breathing and relaxation techniques to ease labor and delivery and understand your options for managing labor and using a birthing coach for support. Take this class during the last three months of pregnancy. Multiple sessions. Open to the community.
Meet the midwives (Walnut Creek Medical Center)
Two great classes that allow you to get acquainted with your delivery teams, get answers to your questions, and learn how to prepare for you and your baby's big day. Both classes include a hospital tour. Limited availability Members only.
Brothers and sisters: Sibling preparation
This class helps children ages 3 to 7 prepare for a baby's arrival, through age-appropriate activities and a brief hospital tour. Members only.
Anesthesia options for labor and delivery
An informative class that reviews anesthetic pain options for labor and delivery. Facilitated by an anesthesia provider who can answer all your questions in a friendly, stress-free environment. Members only. To register, call 925-295-4580.
Breastfeeding help
Telephone help, office visits, and video visits with a nurse-specialist for new mothers experiencing breastfeeding concerns. Members only. Call 1-866-454-8855.
Hospital breastfeeding advice line 925-295-4561
Breastfeeding support groups – Wednesdays, 10 a.m. to noon
Find support and make friends at this weekly support group, which is facilitated by a lactation specialist. Bring your baby! Dates and times subject to change. Locations: Antioch Medical Center, Livermore Medical Offices, Pleasanton Medical Offices, and Walnut Creek Medical Center. No need for a referral or to pre-register; no fee. Members only.
New mother's support group – mondays, 2:30 to 4 p.m.
This group is designed to provide support and practical skills for new mothers. Come share in a supportive circle of women, and learn how to manage this exciting and challenging life change so that you can feel better and function better in your daily life. Realistic goal setting will be included to support your self-care. Attend as little or as much as needed. No commitment to weekly attendance is required. This is a flexible, supportive group. Bring your baby or toddler with you! No need for a referral or to pre-register, no fee. Members only.
Health education locations near walnut creek
Martinez Medical Offices
200 Muir Rd.
Ensenada Building
Martinez, CA 94553
Get Directions
Park Shadelands Medical Offices
320 Lennon Lane
Yosemite Building
Walnut Creek, CA 94598
Get Directions
San Ramon Medical Offices
2300 Camino Ramon
San Ramon, CA 94583
Get Directions
Walnut Creek Medical Center
1425 South Main St.
Walnut Creek, CA 94596
Get Directions
My doctor online resources
kp.org/mydoctor/pregnancy – everything you need to know about pregnancy and your baby's development
kp.org/mydoctor/prenatalnutrition – watch a video about healthy eating during pregnancy
kp.org/mydoctor/breastfeeding – comprehensive breastfeeding information and resources
kp.org/diablo/breastfeeding – detailed information about early days of breastfeeding
kp.org/listen – listen to healthy pregnancy and childbirth podcasts
kp.org/mydoctor/espanol – resources in Spanish
Community resources
Baby Boot Camp/ Birth Recovery: Birth Recovery programs that assist moms during the first nine weeks of motherhood through movement, nutrition guidance, and emotional support.
babybootcamp.com
La Leche League: Provides breastfeeding and parenting services. 1-877-452-5324
lllnorcal.org
Parents, Resources, and More (PRAM): Pram.net
Car seat checks in Walnut Creek: Locates child safety seat inspection services in your area. safercar.gov
Infant CPR and First Aid: American Heart Association offers first-aid classes within the Contra Cost County. cprcpr.com
Health education centers
1-866-248-0721
Health Education Centers are open to members and the community. We carry a variety of health information to support you and your family.
Antioch Medical Center
4501 Sand Creek Rd.
Deer Valley Building
Antioch, CA 94531
Get Directions
Delta Fair Medical Offices
3400 Delta Fair Blvd.
Adobe Building
Antioch, CA 94509
Get Directions
Livermore Medical Offices
3000 Las Positas Rd.
Livermore, CA 94551
Get Directions
Martinez Medical Offices
200 Muir Rd.
Ensenada Building
Martinez, CA 94553
Get Directions
Park Shadelands Medical Offices
320 Lennon Lane
Yosemite Building
Walnut Creek, CA 94598
Get Directions
Pleasanton Medical Offices
7601 Stoneridge Dr.
South Building
Pleasanton, CA 94588
Get Directions
San Ramon Medical Offices
2300 Camino Ramon
San Ramon, CA 94583
Get Directions
Walnut Creek Medical Center
1425 South Main St.
Walnut Creek, CA 94596
Get Directions