Before you and your baby go home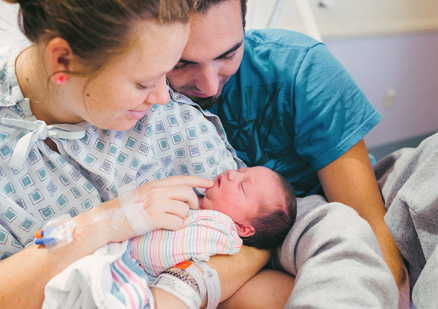 Newborn tests and procedures
Even brand-new babies have to-do lists. Your newborn will be given a test to check for certain types of genetic diseases. It's important to identify these conditions early so we can take steps to help minimize serious health problems. Each state has its own newborn testing requirements, so we'll talk about what to expect during one of your prenatal care visits.
Routine screenings
Bilirubin. Too much bilirubin causes jaundice, a yellowing of the skin and whites of the eyes. This test tells us if your baby's levels are within a safe range.
Hearing. This test takes just a few minutes, and it's done while your baby is sleeping. Hearing loss can affect language development, so this screening is very important.
Pulse oxygen. This test only takes a minute to identify a serious heart defect in an otherwise healthy infant. A small sensor measures the level of oxygen in your baby's blood.
Circumcision for boys
Circumcision is a minor procedure that removes the foreskin that covers the tip of the penis. It's a personal decision that can be based on religious, cultural, or health reasons.
We'll ask you if you want your son to be circumcised while you're in the hospital. If you do, your baby's doctor will use a local anesthetic to make sure he's pain-free, and your little guy will be back in your arms in no time.
Learn more about circumcision and how to care for your baby boy at home after the procedure.
Northern California members:
Visit Your Pregnancy to sign up for prenatal classes, get weekly emails, view and prepare for appointments, and more.
Learn about CenteringPregnancy®, a unique prenatal care program that includes group support with other new moms.
Download our Birth Preferences form.