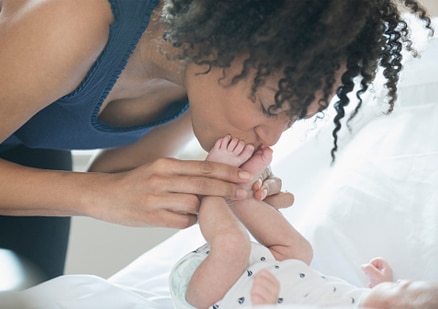 You just spent 9 months keeping your baby safe inside your womb. Now that your precious cargo is here, it's only natural to feel protective. Here are a few things you can do to keep your baby safe and sound:
Always support your newborn's head. Your little one is strong, but those tiny neck muscles will be weak for the first few months.
Use a car seat that meets safety National Highway Traffic Safety Administration recommendations, and make sure it's installed correctly before you leave the hospital.
Keep your environment smoke free.
Always lay your baby down to sleep on his or her back.
Never leave your child alone on a bed, sofa, or changing table — even for a few seconds.
If your baby doesn't have a pediatrician yet, now's the time to choose one.
Choosing a doctor for your baby
Our pediatricians and family doctors are highly trained and passionate about what they do. In fact, 90% of Kaiser Permanente pediatricians are board certified. That means they've gone through extra training and evaluations and are recognized for their expertise in the field.
Helping your little one grow up healthy is an important job, so make time to choose a doctor you really like. When you find one who seems right, ask us about scheduling a "getting to know you" visit, at no additional cost.
Many women choose a pediatrician or family doctor during their pregnancy. Asking friends or relatives for recommendations is a good place to start. You can also ask us! We're here to answer any questions you have about pediatric care with us. We'll even help you arrange your baby's first appointment. Just give us a call. Make sure you're registered on kp.org so you can manage your little one's care online or through our mobile app! It has lots of great time-saving features you'll appreciate as a busy new mom.
 
Northern California members:
Visit Your Pregnancy to sign up for prenatal classes, get weekly emails, view and prepare for appointments, and more.
Learn about CenteringPregnancy®, a unique prenatal care program that includes group support with other new moms.
Download our Birth Preferences form.