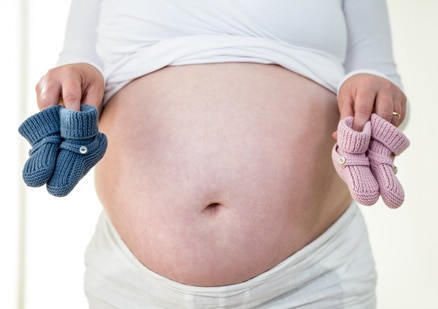 If you're expecting more than one little one, you might have twice as many questions — or more!
Let's start with the basics: A multiple pregnancy happens when more than 1 egg is fertilized or 1 fertilized egg splits into 2 or more embryos. Having multiples means we'll need to see you for prenatal visits a bit more often to make sure you and your babies are all doing well.
Women carrying multiples are at higher risk of:
Preterm birth

Low birth weight

Preeclampsia

Gestational diabetes

Cesarean birth
You'll also need to gain more weight during your pregnancy. At your prenatal appointments, we'll talk about how much weight you should gain, how much activity is safe, and how to get the extra nutrition you need.
It's especially important for you to have a support system for when your babies are born. More than 1 baby means more feedings, more diapers, more crying, and less sleep — so you'll need plenty of help. Talk to us if you're worried about being able to keep up. We can help you prepare.
Northern California members:
Visit Your Pregnancy to sign up for prenatal classes, get weekly emails, view and prepare for appointments, and more.
Learn about CenteringPregnancy®, a unique prenatal care program that includes group support with other new moms.
Download our Birth Preferences form.