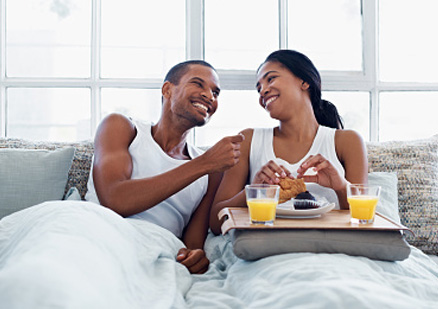 You're supposed to be strong and supportive while your partner is pregnant, right? Well, not exactly. It's normal for both of you to feel a little anxious during pregnancy, especially as your due date approaches. Here are some tips for keeping stress in check.
Laugh out loud
There's nothing like a good belly laugh to wash away tension. It relaxes your body and clears your mind. In fact, laughter may be one of the best natural mood boosters around. And it's contagious!
Even stressful situations can have a humorous side. Look for opportunities to laugh your way through them — and turn them into funny stories to share afterward.
Make a mind-body connection
Everybody reacts to stress differently, and you might be feeling it more intensely now that your partner is expecting. Do you feel tension in your muscles? Do you clench your jaw? Have trouble sleeping? These are signs that stress is becoming a problem.
Luckily, a little mindfulness can go a long way. Here are some things you can try:
Go for a walk when you need to clear your head.
Channel your inner strength
Everyone knows that being active is good for your body. But did you know that it's also good for your mind? Exercise is a natural stress buster that can boost your energy, and even help you sleep better.
Address pregnancy-related stress
There's no getting around it. This can be a stressful time for both partners. To tame tension and feel more confident about the big day ahead:
Learn the basics

. When you know what to expect, much of your fear and anxiety will fade. We offer many classes and groups* related to pregnancy and childbirth. If you can't find one in your area, ask us about other learning resources at your partner's next appointment.
Talk with your partner.

Visualize your delivery day, discuss what she wants during labor and childbirth, and make a birth plan together.
Talk to us.

Kaiser Permanente is a great place to have your baby, because your partner's primary, prenatal, and delivery day care teams are all connected. We know her, and we have a complete picture of her health history — so bring on the questions and concerns.
Trust yourself.

Partners have an amazing way of rising to the occasion in the delivery room.
*Some classes may require a fee.
Northern California members:
Visit Your Pregnancy to sign up for prenatal classes, get weekly emails, view and prepare for appointments, and more.
Learn about CenteringPregnancy®, a unique prenatal care program that includes group support with other new moms.
Download our Birth Preferences form.