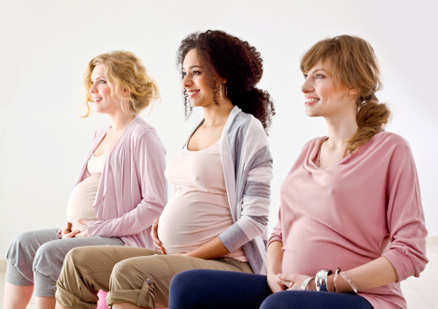 Step into the journey of pregnancy and parenthood with confidence. Our educational programs let you connect with other parents while you learn about pregnancy, labor, birth, breastfeeding, baby care, safety, and parenting.
Call 1-818-375-3018 for more information.
Baby's almost here!
Learn what to expect during the last 3 months of pregnancy, pain relief options during labor, possible labor interventions, and more. Questions welcome!
One 2-hour session

No fee
Prepared childbirth
Learn skills and strategies to help make your childbirth experience a positive one. You and your partner or labor support person will get an in-depth look at labor and childbirth, relaxation, breathing, and pushing techniques.
Four 3-hour weekday evening sessions or one 7-hour Saturday session

Fee applicable
Labor and birthing
Have you read the books and heard the stories? Want to learn about what to expect during labor? This class will help you understand labor and birth, pain relief, epidurals, C-sections, and more.
One 2-hour session

No fee
EMMI
Emmi is an online education program that can be ordered by your provider. You can view these topics on your smart phone or computer. Topics include breastfeeding, tubal ligation, vasectomy, childbirth, newborn care basics, circumcision, and more.
Ask your OB provider to order the EMMI you would like to see.
New beginnings maternity tour
Meet in the hospital's second-floor waiting room (Surgical Admissions Department). You do not need to register for this tour. Plan to come 25 minutes early to complete your pre-admission interview (or pre-admit by phone by calling 818-375-3872). Children under 14 are not permitted in the Labor & Delivery Department.
A 1.5-hour walking tour Wednesday evenings from 6 to 7:30 p.m.

No fee
Breastfeeding with success
Your baby's health begins with good nutrition, and breastfeeding offers a number of health benefits to both you and your baby. Learn about breastfeeding positions, milk supply, preventing and managing pain, pumping, milk storage, and working while breastfeeding. This program is open to expectant mothers and their partners or support people. Please bring a doll or stuffed animal to the class. Classes are available at our Panorama City, Santa Clarita, and North Hollywood locations.
One 2-hour session

No fee
Great starts
During this mother and baby follow-up appointment, a family nurse practitioner and a registered nurse/breastfeeding specialist will check your baby's weight, examine the baby for jaundice, discuss mother and baby health concerns, help with breastfeeding, and make any referrals needed for mother or baby.
One 1-hour appointment

No fee
Baby care basics
This class will help prepare you with useful tips on caring for your newborn. Topics include what to expect the first few weeks, bathing, diapering, safety, vaccinations, when to call the doctor, and more.
One 2-hour session

No fee
Prenatal yoga
Learn self-care stretches and gentle movements to alleviate back pain and other discomforts that can occur during pregnancy. Prenatal yoga also helps prepare the expectant mom both physically and mentally for the demands of labor, birth, and motherhood.
Six 1-hour sessions

Fee applicable
Pregnancy and infant massage
Individual massages for mothers-to-be. Our certified and licensed massage therapist soothes and relaxes your lower back, neck, and feet with proper pregnancy massage techniques.
By appointment only

Fee applicable
Healthy living stores
Stop by and check out our quality products for new parents. Learn helpful tips, expand your library of resources, or find breastfeeding supplies. Call the location nearest you for hours.
Panorama City Medical Center
Medical Offices 2
13730 Roscoe Blvd.
Panorama City, CA 91402
Get Directions
818-375-3018
Valencia Executive Plaza
(adjacent to the Santa Clarita Medical Offices)
27201 Tourney Rd., Suite 220
Valencia, CA 91355
Get Directions
661-222-2323
North Hollywood Medical Offices
5250 Lankershim Blvd., Suite 903
North Hollywood, CA 91601
Get Directions
818-508-2652
Mission Hills Medical Offices
11001 Sepulveda Boulevard,
Mission Hills, CA, 91345
Get Directions
818-837-2300