Kaiser Permanente Ontario Medical Center
2295 S. Vineyard Ave., Ontario, CA 91761
909-724-5000
CenteringPregnancyⓇ
Kaiser Permanente Ontario features CenteringPregnancy. This is a nationally-recognized style of prenatal care in a group setting. Its aim is to build a community that empowers women to be actively involved in their own care and equips them to make healthy choices throughout their pregnancy and beyond. For more information, please call our CenteringPregnancy coordinator at 909-724-2395.

General information
Emergency Services:
24 hours a day, 7 days a week
Urgent Care available
Hospital Operator:
1-866-735-2922
TTY (for the hearing/speech impaired):
1-800-222-1222 (toll free)

---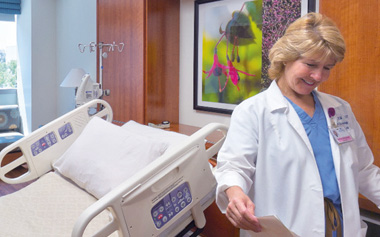 Virtual Tour
Our labor and delivery suites and rooms were designed with you, your baby, and your family in mind. See what to expect as you welcome your baby into the world.
---
More about this facility
The following services are available:
Comprehensive maternal-fetal (perinatal) services
24-hour OB/GYN physicians
Private family bonding/postpartum rooms
On-site lactation consultants
Video lactation consultant