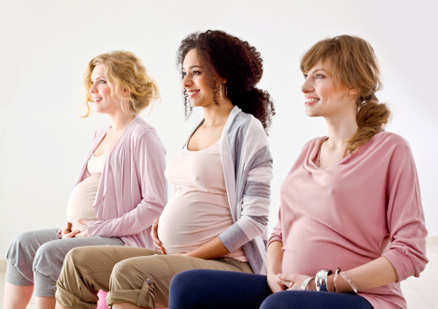 Step into the journey of pregnancy and parenthood with confidence. Our educational programs let you connect with other parents while you learn about pregnancy, labor, birth, breastfeeding, baby care, safety, and parenting.
Getting ready for a new baby is a thrilling time. Kaiser Permanente members can participate in the many classes offered at Community Memorial Hospital to help you, your coach and your family prepare for the arrival of your baby and parenthood. For questions and current class information please call the Babyline at: 658-BABY (2229).

Baby line
To hear current information on classes at CMH or if you have any questions, including class dates and time please call 805/658-BABY (2229). You can leave a message which will be returned by the next business day. All classes, excluding the Maternity Orientation, are held at the CMH New Parent Resource Center located at 2580 E. Main St., Suite 101 If you deliver at Community Memorial Hospital you will receive a $10.00 gift certificate which can be applied toward any of our Baby & Me Classes!!!
Maternity tour
Get to know the services at CMH better by participating in a tour of the Maternal Child Health Department! See where your baby will be born, get pre-admitting information and learn what to expect during your stay. No reservation is required and the tour is free. Tours start promptly at 5:00, 6:00 p.m. and 7:00 p.m. Please be on time. In respect of the other attendees, we request no young children at the tours.
Tour will not be held on major holidays.
English speaking
Date:         Tuesdays
Time:        5:00 p.m., 6:00 p.m. & 7:00 p.m.
Location: Community Memorial Hospital 2nd floor, Maternity Waiting Room, across from vending machines
Contact:   New Parent Resource Center
Phone:      805/658-BABY (2229) 
Spanish speaking
Date:       4th Monday of the month
Time:       7:00 p.m.
Location: Community Memorial Hospital 2nd floor, Maternity Waiting Room, across from vending machines
Contact:  New Parent Resource Center
Phone:     805/658-BABY (2229)
Classes
http://www.cmhshealth.org/distinction/mch/classes.shtml
Class location
New Parent Resource Center
2580 E. Main St., Suite 101
Parking on San Nicholas Street