Who's in the delivery room?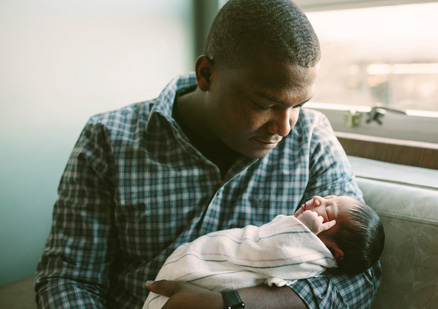 We deliver babies around the clock, so our labor and delivery care teams have rotating schedules. That's important, because you deserve a doctor or midwife who's at their best — ready to give you and your baby the care you need.  We can't predict who will be there on your delivery day, but we can promise that a team of experienced and caring professionals — who aren't exhausted from working 20-hour shifts — will be ready when you and your baby are.
When you're a Kaiser Permanente member, your prenatal care team, primary care doctor, and labor and delivery team are all connected through your electronic health record. Having an experienced care team who knows your health history means you're in highly capable hands. But it's our collaborative approach to care and our commitment to respecting your birth preferences that make Kaiser Permanente the best place to have a baby.
Here are some of the people who will help bring your baby into the world:
A doctor or midwife will be there to help you deliver your baby. In many Kaiser Permanente facilities, physicians and midwives work together so they can give you more personalized care and attention during labor. All of our doctors and midwives have had rigorous training — and plenty of experience —so you and your little one will be in very capable hands. In fact, 94% of Kaiser Permanente obstetrician-gynecologists (ob-gyns) are board certified — which means they've gone through extra training and evaluations, and are highly skilled in their field.
Your labor and delivery nurse, who will be with you the most throughout your delivery experience. After your baby is born, another team of nurses will step in to care for you and your little one, and help you get comfortable breastfeeding.
An anesthesiologist or nurse anesthetist, who specializes in providing safe and effective treatments to help you manage pain. Before delivery day, you'll choose a pain management option and make it part of your birth plan.
A pediatrician won't be there when you deliver unless there is a medical reason — for instance, if your baby is in distress. A little while after your baby is born, a pediatrician will come in to do a thorough newborn exam.
A lactation consultant or registered nurse will be available to give you one-on-one support and help you get comfortable breastfeeding your baby.