Bringing home baby number 2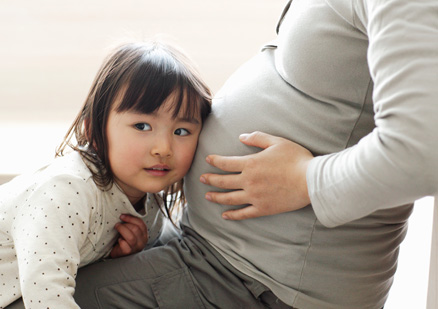 Bringing home a new baby is different the second time around. Caring for a newborn and an older child at the same time is like any new skill, it takes time, practice, and patience. Fortunately, with experience comes wisdom — some things you struggled with as a first time mom will be second nature by now. And that gives you more time to devote to helping your older child adjust to life with a new brother or sister.
Here are some ways to help ease your child's transition from only to oldest:
Make them the first to know. Make sure your child finds out you're expecting from you — not someone else. When you share your news, be honest. Explain that some things will change when the new baby comes — but nothing will change how much you love your older child.
Help them feel included. Take your child to prenatal appointments with you so they can hear baby's heartbeat and see the ultrasound pictures. When your baby kicks, let your child touch your belly and encourage them to talk to their new brother or sister. When you talk about baby names, let your older child weigh in.
Teach them to be gentle. Explain that babies are delicate, and need to be held, hugged, and handled with care. Try using a doll to let them practice. After your baby arrives, praise your older child whenever you see him or her making a special effort to be gentle, loving, and sweet with the new baby.
Get them excited. Point out the benefits of being a big brother or sister — your older child can do all sorts of things that the new baby won't be able to do until they're bigger. Tell them how lucky your newborn is to have an older sibling to teach them new things and help take care of them.