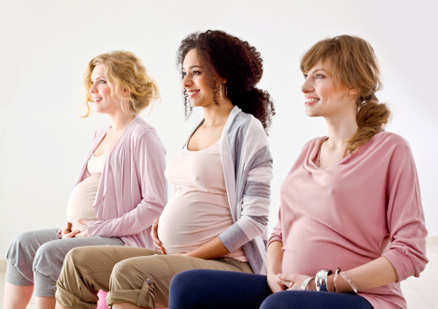 Step into the journey of pregnancy and parenthood with confidence. Our educational programs let you connect with other parents while you learn about pregnancy, labor, birth, breastfeeding, baby care, safety, and parenting.
Some programs are open to non–Kaiser Permanente members, too. Call for more information.
CenteringPregnancy is prenatal care that includes a one-on-one health check-up with extra time and attention in a group setting. CenteringPregnancy is a way for you to learn and share your experiences with other expectant parents while being involved in your own care. For more information, please call our CenteringPregnancy coordinator:
808-432-4255.
Prenatal class
Kona Community Hospital, Kealakekua
Take this comprehensive childbirth prep series to receive specialized training including nutrition, positions for labor, breathing techniques, and infant care.
Learn more
Childbirth education class
Kaiser Permanente Honolulu Medical Office, Honolulu
Discuss your questions and concerns with other pregnant women in a relaxed setting. Learn about your changing body and signs and stages of labor.
Learn more
Pregnancy stretch & tone class
Kaiser Permanente Maui Lani Medical Office, Wailuku
Kaiser Permanente Wailuku Medical Office, Wailuku
Stay fit and healthy throughout your pregnancy and meet other expectant mothers. Exercises are suited for all stages of pregnancy and based on prenatal stretching.
Learn more
Breastfeeding 101
Kaiser Permanente Maui Lani Medical Office, Wailuku
Expectant mothers, fathers, family and significant others learn the benefits of breastfeeding, how it works, how to support the new mother and more!
Learn more
Breast is best
Valley Isle Childbirth Education, Makawao
Gain skills on proper latch-on techniques, how to tell if you're making enough milk, problem resolution, organizing your days, and pumping equipment and supplies.
Learn more
Basic infant care
Valley Isle Childbirth Education, Makawao
Discover the fun and joy of being a new parent. Learn everything you need to know when it comes to the basics of baby care: normal newborn, coping with crying, and more.
Learn more
Childbirth essentials-retreat
Valley Isle Childbirth Education, Makawao
Gain a thorough understanding of the birthing process in this one day workshop. Receive training in both the Lamaze and Bradley birthing techniques.
Learn more
Childbirth education class
Kaiser Permanente Waipio Medical Office, Waipahu
Discuss your questions and concerns with other pregnant women in a relaxed setting. Learn about your changing body and signs and stages of labor.
Learn more
Labor epidural class: Anesthesia options for labor and delivery
Kaiser Permanente Moanalua Medical Center, Honolulu
Review anesthetic pain options for labor and delivery. An anesthesia provider will answer all your questions in a friendly, stress-free environment.
Learn more
La leche league international (Breastfeeding)
Kaiser Permanente Wailuku Medical Office, Wailuku
La Leche League International provides worldwide support to promote breastfeeding. It offers a space for you to share experiences and gain encouragement.
Learn more
New family experience: Prenatal hospital tour – adults
Hospital and clinic tours
Kaiser Permanente Moanalua Medical Center, Honolulu
If you're expecting a bundle of joy, tour our Family Birth Center. See where your baby will be born and learn about all the resources available to you.
Learn more
New family experience: Prenatal hospital tour – children
Hospital and clinic tours
Kaiser Permanente Moanalua Medical Center, Honolulu
Give your kids the opportunity to tour our Family Birth Center and learn what to expect when mom is ready to have the baby. Note: Limited to 6 children.
Learn more
Newborn care
Kaiser Permanente Koolau Medical Office, Kaneohe
Kaiser Permanente Honolulu Medical Office, Honolulu
Kaiser Permanente Waipio Medical Office, Waipahu
Find out what is special about pregnancy and childbirth with Kaiser Permanente. Learn about postpartum care newborn care and infant safety
Learn more
Introduction to the Kaiser Permanente birth experience
Kaiser Permanente Wailuku Medical Office, Wailuku
Labor and delivery is different for every woman, but there are simple steps you can take to prepare yourself for this life-changing experience.
Learn more
Lamaze prepared childbirth
Kaiser Permanente Maui Lani Medical Office, Wailuku
Kaiser Permanente Lahaina Clinic, Lahaina
Kaiser Permanente Kihei Clinic, Kihei
Kaiser Permanente Wailuku Medical Office, Wailuku
Enjoy group classes or customized sessions on Lamaze prepared childbirth. Topics may include stages and phases of labor, coping skills for labor, and partners.
Learn more