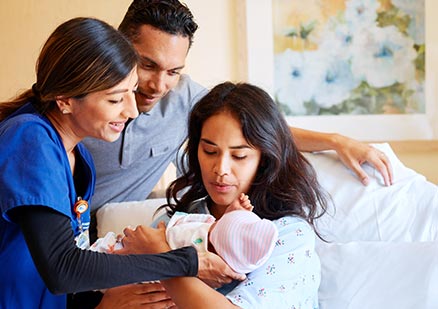 Newborn paperwork
Having a newborn means lots of paperwork - but we'll guide you through it. Before you leave the hospital, we'll help you:
Request a birth certificate and Social Security number for your baby

Register your baby's name. If you don't have a name for your baby at that time, you can complete a special form later on at your county's department of vital records

Review and sign consent forms for newborn vaccinations and other common newborn tests and treatments
Follow-up appointments
When it's time to leave the hospital, we'll go over important information about taking care of your newborn. We'll schedule a doctor visit for your baby within the first few days and a postpartum visit for you in 4 to 6 weeks. We'll also talk about getting breastfeeding support from one of our lactation consultants.
Welcoming our newest Kaiser Permanente member
We'll give your little one a Kaiser Permanente Health/Medical Record number at the hospital. To keep his or her health coverage, enroll your baby within 30 days of birth. If you're currently enrolled in an employer's group plan and want to add your newborn to this plan, please contact your employer or group administrator and complete enrollment within 30 days. We look forward to helping your baby stay healthy for many years to come.