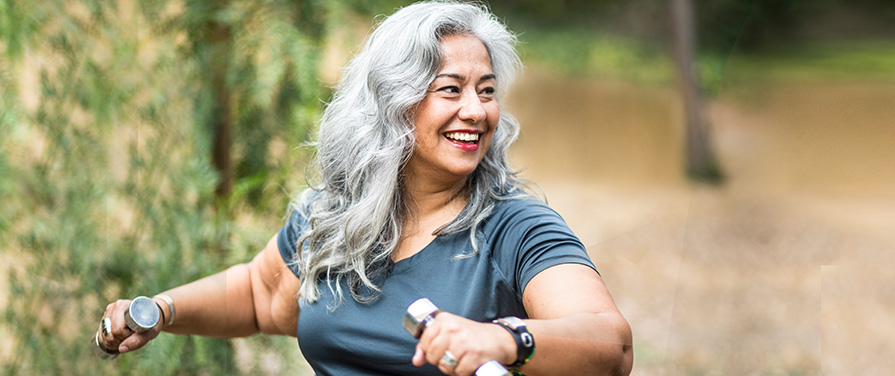 Of course, you'd rather avoid a serious heart problem than be treated for one. We couldn't agree more. That's why prevention is at the heart of our approach to cardiovascular health. Automatic reminders triggered by your electronic health record make staying up to date with preventive screenings easy. And you can get help making heart-healthy lifestyle choices with tools, classes, and personalized support from your doctor. Together, we can help keep your heart healthy for many years to come.

We're your partners in heart health
Prevention starts with you — and we're here to help. When you take good care of your heart, your whole body benefits. And the same healthy habits that keep your heart strong can also help it heal if you have a heart condition:
Making healthy changes is challenging — especially at first. Your doctor can help get you started, and we have tools, resources, and support for developing heart healthy habits that stick. 
Managing risk to maximize health
How do we help members stay ahead of heart disease? By tracking, treating, and minimizing risk factors. We measure and record members' cardiovascular health metrics at almost every appointment, so care teams can view them at a glance and over time. That helps us spot problems earlier, start treatment sooner, and deliver truly personalized care.
Preventing heart attacks1 
40% reduction in all heart attacks 
72% reduction in severe heart attacks 
For Northern California members between 1999 and 2014.


Managing high blood pressure2
Kaiser Permanente members: 80%
National average: 55%
Pioneers in heart attack and stroke prevention 
Our research teams tested a combination of 3 medications — aspirin, Lisinopril, and a lipid-lowering statin (ALL) — to see if it would prevent more heart attacks and strokes than traditional methods. In 3 years, the regimen reduced heart attack and stroke by 60%.3
Healthier blood pressure, healthier hearts
High blood pressure is a key risk factor for heart disease. So when a test reveals high blood pressure, our doctors use smart tools to create a follow-up plan before the member walks out the door. And if prescriptions go unfilled or tests are overdue, our care teams get automatic alerts to reach out to members with reminders. It's how we lead the nation in controlling high blood pressure2 — and why we're recognized as a model for other health care providers who want to do the same.
---
Footnotes
1"Heart Attacks Continue Notable 15-Year Decline in Northern California," Science Daily, August 1, 2016.
2Kaiser Permanente 2019 HEDIS® scores. Benchmarks provided by the National Committee for Quality Assurance (NCQA) Quality Compass® and represent all lines of business. Kaiser Permanente combined region scores were provided by the Kaiser Permanente Department of Care and Service Quality. The source for data contained in this publication is Quality Compass 2019 and is used with the permission of NCQA. Quality Compass 2019 includes certain CAHPS data. Any data display, analysis, interpretation, or conclusion based on these data is solely that of the authors, and NCQA specifically disclaims responsibility for any such display, analysis, interpretation, or conclusion. Quality Compass® and HEDIS® are registered trademarks of NCQA. CAHPS® is a registered trademark of the Agency for Healthcare Research and Quality.3Internal Kaiser Permanente Northern California Department of Research study conducted from 2004–2006.
3Internal Kaiser Permanente Northern California Department of Research study conducted from 2004–2006.