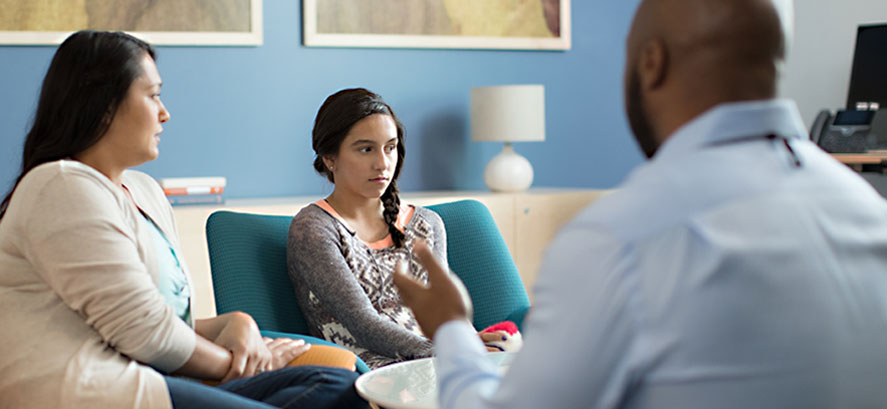 Your mental health and wellness journey
You'll get a personalized treatment plan. You may need to try several options before you figure out what works for you — that's a normal part of the process. We'll help guide you through your options, based on your situation and personal preferences.

Individual therapy
One-on-one, confidential sessions where a therapist will help you explore and understand your thoughts, feelings, and behaviors, and how you can take proactive steps to feel better.
Therapy at Kaiser Permanente is collaborative and results-oriented — you and your therapist will work together to achieve your specific goals. The duration of individual therapy depends on what you need and how you're doing. Once you achieve your goals and get the tools and insights you need to feel mentally and emotionally strong, you no longer need to see a therapist. 
Psychiatry
One-on-one, confidential sessions with a psychiatrist, nurse practitioner, or physician assistant who specializes in mental health treatment, including diagnosing mental health conditions and prescribing medications. Once your condition is stable, your personal doctor might take over managing your medication. 
Group therapy
Meetings led by mental health professionals, where members with similar experiences or conditions support each other to reach common wellness goals. It's an opportunity to learn from and connect with others — which many people find extremely powerful — and you don't have to share anything you're not comfortable with.
Health classes
Programs taught by trained instructors, designed to help you strengthen relationships, change unhealthy thinking and behavior, cope with stress, and more.
Self-care resources
Tools that empower you and support a healthy mindset, including online self-assessments, Wellness Coaching by Phone, personalized healthy lifestyle programs, and more.
Did you know?
1 in 5 Americans lives with a mental condition — but less than half of them get treatment.†
We're here to help you stay healthy — in mind, body, and spirit. Learn how to access mental health services for you or a family member.
†Mental Health America
Finding the right provider
All our mental health providers are highly skilled, and passionate about helping our members overcome their challenges. The type of provider you'll see depends on your needs, preferences, and goals for treatment. Having a good relationship with them is important — if your first provider isn't a good fit, we'll help you find one who is.
Psychiatrists
Licensed medical doctors who can diagnose mental health conditions, as well as prescribe and monitor medication. You may also work with other licensed providers who can prescribe and monitor medications, including nurse practitioners, physician assistants, or pharmacists.
Therapists 
Provide evaluation, diagnosis and treatment. They may be licensed psychologists, clinical social workers, or marriage and family therapists. Kaiser Permanente also serves as a training site, so you could get care from a trainee who is supervised by a licensed professional. If you prefer not to work with a trainee, just let us know. 
Addiction medicine providers
Provide comprehensive treatment for people with substance abuse and addiction issues. 
---
Need help now? If you think you're having a psychiatric emergency, call 911 or go to the nearest emergency room.*