Insomnia
Wake up feeling rested
Dream (formerly known as Care for Sleep) can help you gain greater control over your insomnia and get more of the sleep you need.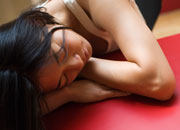 In this program, you'll learn techniques to adjust your lifestyle and relax both mind and body so that you can sleep better, without medication.
After completing a questionnaire, you'll receive a customized action plan organized in 6 convenient 1-week sessions. Each week, you'll monitor your sleep and relaxation patterns, set goals, and track your progress.
Participants report these positive results:
Average increase in sleep time of 29 minutes per night

34 percent decrease in difficulty of falling asleep
23 percent reduction in fatigue levels.*
If you aren't able to finish the program all at once you can save your spot, then pick up where you left off when you return.
Tried Dream and want to find out more? Learn new ways to get better sleep.
---
* Kaiser Permanente Johnson & Johnson Health and Wellness Solutions Outcomes, December 2015.
Reviewed by: Mark Groshek, MD, April 2016
© 2016 Kaiser Permanente