Reduce stress
with a proven relaxation plan
Relax delivers a customized plan to manage symptoms and health issues related to stress.
Discover what causes your stress and find ways to help manage it. The Relax program teaches you how to minimize symptoms of stress, including:
irritability and depression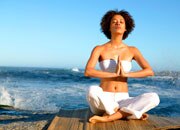 63 percent of people who have completed the program report reduced stress levels.*
Once you complete the questionnaire, you'll receive an action plan to help you begin managing your stress and start reducing its impact on your life.
If you aren't able to finish the program all at once you can save your spot, then pick up where you left off when you return.
Tried Relax and want to learn even more ways to de-stress? Find balance in our mental health and emotional wellness center.
---
* Kaiser Permanente Johnson & Johnson Health and Wellness Solutions Outcomes, December 2015.
Reviewed by: Mark Groshek, MD, April 2016