Chronic Pain
Small changes for long-term relief
Care for Pain helps you examine how chronic pain affects your daily life, then helps you explore ways to manage it.

The program can help you learn to manage many types of chronic pain, including:
arthritis and other joint pain
muscle and soft tissue pain
nerve pain and pinched nerves
chronic headaches and jaw pain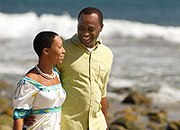 Once you complete the questionnaire, you'll receive a customized action plan to help you begin managing your pain and start reducing its impact on your life.
Participants reported a 42 percent reduction in doctor visits due to pain.*
If you aren't able to finish the program all at once, you can save your spot, then pick up where you left off when you return.
Want to learn more? Find out about reducing pain with or without medications in our pain management center.
---
* Kaiser Permanente Johnson & Johnson Health and Wellness Solutions Outcomes, December 2015.
Reviewed by: Mark Groshek, MD, April 2016
© 2016 Kaiser Permanente