Depression
Start feeling like yourself again
Care for Depression can help you gain greater control over your depression — and work toward feeling better.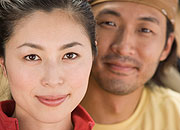 Learn how to cope with symptoms, change negative thinking, and help prevent relapses as you look at how you feel about yourself and others.
After completing the questionnaire, you will get a customized plan that shows you how to manage depression and head in a more positive direction.
Participants reported a 38 percent improvement in CES-D scores, a test that measures depressive symptoms.*
If you aren't able to finish the program all at once you can save your spot, then pick up where you left off when you return.
Tried Overcoming Depression and want to learn more about your options? You can find information about how depression affects people of all ages, medication options, and more in our depression center.
---
* Kaiser Permanente Johnson & Johnson Health and Wellness Solutions Outcomes, December 2015.
Reviewed by: Mark Groshek, MD, April 2016
© 2016 Kaiser Permanente