Getting the care you need is essential to feeling your best — in mind, body, and spirit.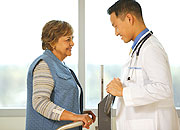 Most Kaiser Permanente locations offer multiple services under one roof. In many areas, it's possible to see your personal physician, get an X-ray, visit the lab, and fill your prescription all in the same place.
Some of our clinics also offer physical therapy, transportation services, medical equipment, cosmetic surgery, and other services to help you maintain your vitality and independence in the years ahead.
kp.org
Using our collection of convenient online tools, you can:
Order prescription refills
Make, change, or cancel appointments
See most test results
View your medical record
Send nonurgent emails to your doctor
Review instructions from your doctor
Act for a family member

Preventive services
Are you due for a mammogram or cholesterol check? Many health problems can be prevented or controlled if they are caught early, and our goal is to work with you to keep you healthy. Understand why early disease detection is so important.
Preventive care recommendations may change based on your age and overall health. Review our preventive care guidelines or talk with your physician to find out if, when, and how often you should have tests and immunizations.
Your eyes and ears
As we get older, almost all of us will experience changes in vision and hearing.
Our doctor and location search can help you find your local Ophthalmology and Optometry departments. In many areas, our Vision Essentials centers offer eyeglasses and contact lenses for sale in addition to providing complete eye care.
If you think you may have hearing loss, call for an appointment for a hearing evaluation. For approximately 95% of people with hearing impairment, hearing aids can improve or correct the problem.
Sign on to My plan and coverage to learn about our hearing aid products and services in participating regions.
---
Reviewed by Tracy Lippard, MD, July 2019