It's key to good mental health

Your emotional well-being is closely tied to your physical health, social connections, attitudes and beliefs, and other factors.
Many seniors enjoy the freedom of retirement, fewer responsibilities, and more time for travel and other leisure activities. For others, ill health, loneliness, reduced income, and dependency on others present ongoing challenges in their lives.

Have a plan for handling stress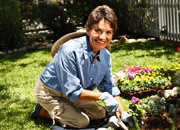 Find easy and useful relaxation techniques, including a personalized plan to help you relieve and prevent stress.
Sharpen your mind
We all lose our car keys or forget where we parked, but getting older can mean that these "senior moments" happen more frequently. Most of the time these changes are normal, and it doesn't mean that you have a serious memory problem. But if you are concerned about memory loss, talk with your doctor. Some memory changes can be caused by common conditions that are treatable.
Staying interested and involved in the world is an important aspect of healthy aging.
Learn tips
for how you can improve your ability to concentrate and keep your memory sharp.
Keep up social ties and help others
Social contact can make a big difference in how you feel and in how well you cope with problems, both large and small. People with strong social networks are often healthier and happier than those with few social connections. In addition to spending time with family, keeping in touch with old friends and making new ones is equally rewarding.
Combine physical and social health by joining a walking club or taking an exercise class.
You can also get involved by volunteering to help others or joining a club or organization.
Study architecture in Venice, cross-country ski in rural Vermont, or visit your local museum. Road Scholar (formerly known as Elderhostel), an educational travel organization for adults 55 and over, offers learning adventures in more than 90 countries and all over the United States.
Put your skills and experience to work in rewarding ways. Learn about the Retired Senior Volunteer Program (RSVP), the Foster Grandparent and Senior Companion programs, and other volunteer opportunities available through Senior Corps.
Help others by sharing your wisdom. Contact your local senior center, volunteer center, or schools in your area, to find out how you can share a lifetime of knowledge and experience.
The Service Corps of Retired Executives (SCORE) is a group of dedicated volunteers providing business counseling to small businesses.
If you're up to the challenge, the Peace Corps

provides an opportunity to travel and volunteer at the same time.
Keys to staying positive
Maintaining relationships with supportive family members and friends, eating well, staying active, and keeping a positive outlook on life are some of the things you can do to help you through difficult times, and they can make a big difference in how healthy you are and how you feel.
Expect good things to happen. Count your blessings and express thanks. Add humor, laughter, and fun into your day. Our attitudes really can affect our health and how we feel. Learn how positive thinking can improve your overall health.

Take some time each day for yourself
Here are some suggestions to help you stay emotionally healthy:
Take a walk with a friend.
Work in your garden or watch birds and animals in a nearby park.
Attend worship services or meditation sessions.
Write it down. Keeping a journal can be a great way to get things off your chest and work through issues.
Try simple and beneficial relaxation methods.
Attend a yoga or other fitness class geared to older adults.

Fan the flame — intimacy and aging
Age is no reason to limit your sexual enjoyment. Learn about physical changes that come with aging and get suggestions to help you adjust to them, if necessary.

---
Reviewed by Tracy Lippard, MD, July 2019