Things to know about helping a loved one

Are you a working mom who helps your mother? A husband caring for your sick wife at home? Do you regularly help a neighbor with chores? Maybe you're already retired and caring for your elderly father.
Caregivers have one thing in common: They make time in their lives to provide social, financial, emotional, and physical support to someone who needs their help.

Helping feels good — except when it doesn't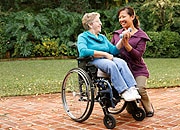 Caring for someone on a regular basis has its ups and downs. Naturally, there are positive feelings associated with helping others. If you're caring for your mother or father, there is the satisfaction of knowing you are, in some way, returning the care they once provided you.

But not all feelings are positive, all the time. Most caregivers experience some of the following:

A feeling of being alone with a huge responsibility
Worry or doubt about the quality of care you're providing
Guilt that you aren't doing enough
Resentment toward the person you care for
Anger at the lack of time you have for yourself and your family
Frustration that this isn't what you had planned for yourself at this time in your life
Fear about how much longer you can keep up this kind of care
Confusion about where to turn for help
A sense of loss because the person you care for has changed so much
Stress over money
Taking care of someone is never easy, but it's important to understand that you are not alone. There are many people who can help, including family and friends, health care professionals, and persons working with community services.

Prevent burnout
It is important to know that by taking care of yourself, you are, in turn, helping the person who depends on you.
Get some helpful tips drawn from the experiences of many caregivers.
Caregiver resources
There are many excellent resources to assist you in your caregiving role. Ask your doctor about Kaiser Permanente resources for caregivers, or visit the websites listed below.
Elder abuse: Recognize the symptoms
Treating an older person like a baby, giving an older person the "silent treatment," and isolating him or her from family, friends, or regular activities are examples of emotional or psychological abuse.
Learn about elder abuse, including how to get help if you suspect the person you're caring for is abused.

Other places to find help
---
Reviewed by Tracy Lippard, MD, July 2019