Benefits of breastfeeding
Breastfeeding your baby can be a bonding experience for both of you. Touching and cuddling help your baby feel secure, warm, and comforted. You'll love the warmth and comfort, too — and the chance to sit down!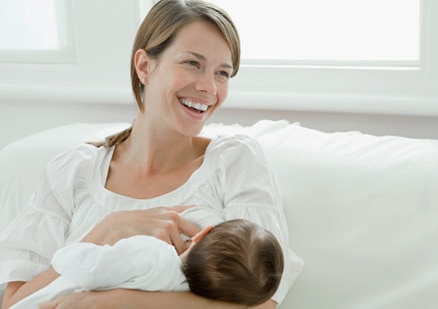 Did you know?
Kaiser Permanente and the American Academy of Pediatrics recommend that babies get only breast milk for the first 6 months. When possible, babies should continue to chestfeed for 2 years and beyond, even after appropriate solid foods are introduced. 
Breastfeeding rates
Kaiser Permanente: 71%
National average: 49%*
* The Joint Commission, 2021.
Advantages of breast milk for you and your baby
Breast milk gives your baby all the nourishment they need for the first 6 months of life and provides many benefits to help your baby grow up strong and healthy. Breast milk is easier to digest than formula, and breastfeeding:
 Strengthens your baby's immune system
Lowers your baby's risk for many types of infections



Helps prevent many illnesses
Reduces the risk of obesity later in infancy and during childhood
Benefits for you
Life can be easier and healthier when you breastfeed. For starters, your baby's food is almost always ready! Here are a few more benefits of breastfeeding:
Supports and strengthens your bond with your baby
Helps your body recover from the rigors of pregnancy and childbirth
Lowers your risk of developing certain health problems, such as breast cancer or diabetes
May make it easier to lose pregnancy weight
Learn more about breastfeeding nutrition.  
How to breastfeed
Learning the basics of breastfeeding can help you and your baby get the most out of this special time together. It might take a while for you and your little one to get into a comfortable rhythm — don't worry if it doesn't happen right away. If you have questions or concerns, or just need help getting started, give us a call.
Learn more about how to breastfeed your baby.