Top-notch care, from prenatal to pediatrics
Becoming a parent starts long before your baby is born. When you're a Kaiser Permanente member, your entire journey to parenthood is supported by connected care and coverage. Whether you're planning for a family, pregnant, or raising children, we have a health plan that fits your life.
Explore our plans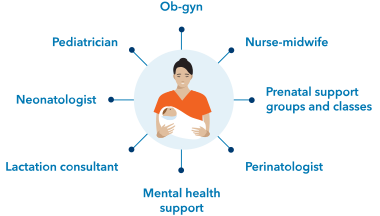 Personalized care built around you 
At Kaiser Permanente, we coordinate your care before, during, and after your pregnancy to make it easier for you and your baby to stay healthy. Everyone on your care team can see your health history, collaborate quickly, and seamlessly connect you to the care you need — from prenatal specialty care to pediatric visits. And at many locations, you can save time by having your routine appointments, lab testing, and pharmacy under one roof.
Comprehensive maternity care 
At Kaiser Permanente, we take your care very seriously. We'll follow your pregnancy closely and give you extra appointments, tests, and education as needed. After you give birth, we'll be there to help you and your baby thrive.
Our comprehensive prenatal care helps us understand your health history and lower your risk of complications.
If you have a high-risk pregnancy or a chronic condition like high blood pressure, we'll tailor your care to reduce risks, helping to keep you and your baby safe. 
Moms who choose to breastfeed get the support they need to be successful — 74% of babies born at Kaiser Permanente hospitals are exclusively breastfed during their stay, compared with 51% nationally [See footnote 1]

.
You're in charge of your birth plan
Giving birth is a highly personal experience. With over 100,000 babies born each year, more moms have the birth experiences they want at Kaiser Permanente. Your care team supports your choices, from how you prefer to cope with pain to which laboring positions you favor. And we help mothers avoid unnecessary interventions and unplanned cesarean sections (C-sections). Year after year, our hospitals have lower C-section rates compared with other U.S. hospitals [See footnote 2].  
A dedicated care team to support you 
Our care teams work together to deliver high-quality maternity care. 

Learn how having a connected team can make it easier for you to get excellent health care.
Media gallery