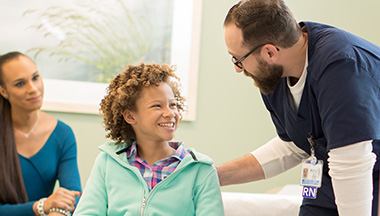 What is Kaiser Permanente?
Kaiser Permanente has been providing high-quality health care and coverage for more than 75 years. By connecting care with coverage, we pioneered a new model for health care, where things are designed to work together — and help our members thrive. Our care model enables our teams to think and work as one, coordinating your care seamlessly, so you don't have to — and delivering better care when it matters most.
Care that's built to support your total health1
Better care from a connected team
When you're a Kaiser Permanente member, your whole care team is connected — to you, and to each other — through your electronic health record. Every visit is captured, so your doctor can use your health history to inform your care. If you need to see a specialist, they'll have important information about your health before they even meet you in person.2 And when you fill a new prescription, your pharmacist can make sure it's safe to take with your other medications. This enables us to deliver the right care faster — and help members avoid unnecessary visits, serious health conditions, and sleepless nights.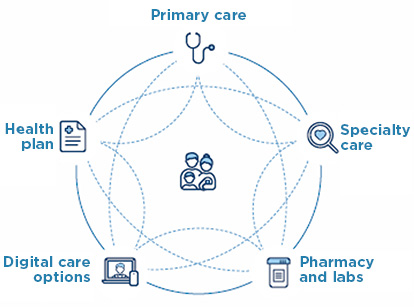 Connected care makes your life easier
Our doctors, hospitals, and health plans are all part of one team. That means your eye doctor can remind you if you're overdue for a cancer screening. And the app you use to view your lab results is the same one you use to pay your bills. It takes the hassle out of health care — so you can focus on living your life.
A partner in health
When everything about your health care, including your health plan, is connected, everyone is equally invested in your total health. We take an active role in helping to keep you healthy from the minute you become a member — not just when you get sick or injured. Because of our care model, it's in everyone's best interest to provide the right care, not more care — and when our members thrive, everyone wins. 
 
Preventive care to help you stay ahead of health problems
Many common health conditions are preventable — so a proactive approach to prevention is the foundation of how we practice medicine. When you're a Kaiser Permanente member, your electronic health record triggers automatic reminders for screenings, so we can let you know when it's time to make an appointment. Your care team sees a complete picture of your health at every visit. And your care gets documented along the way. It's how we help many members avoid serious health issues, and help others catch problems before they're serious.


Specialty care you can trust
When faced with serious health problems, you'll get great doctors, the latest technology, and evidence-based care — all working together to support your journey back to health. 
A leader in clinical quality3
In 2019, Kaiser Permanente led the nation as the top performer in: 
Prevention and screening
Comprehensive diabetes care

Convenient, hassle-free health care
You expect convenient options from restaurants, retailers, and banks — so why not health care? At Kaiser Permanente, you can get care where, when, and how you want it. With more options to choose from, it's easier to stay on top of your health. And isn't that what health care is for?


Choose how you see your doctor




More simple ways to get care in the moment
E-visit
Fill out a short questionnaire about your symptoms online and get personalized self-care advice from a Kaiser Permanente health care professional.


24/7 care and advice by phone
Call us for advice when you need it most. We'll help you find out what care is right for you, schedule appointments, and more.


Email
Message your doctor's office anytime with nonurgent health questions.5 You'll get a response usually within 2 business days.


The Kaiser Permanente app
Download the app to manage routine appointments, refill most prescriptions for mail-order delivery, see most test results, and more.6,7


More than just health care — support for healthy living
We're here to help you stay healthy — not just take care of you if you get sick. Good health goes beyond the doctor's office, and living a healthy lifestyle can help you thrive for years to come. That's why we support our members in ways that go beyond providing great health care, including:8
Built to be different — and better
Having a good health plan is important. So is getting high-quality care. Kaiser Permanente was built to give you both.

Learning these common health care terms can help you plan for the cost of your care.
Doctors and locations
Find top-notch doctors, specialists, and pharmacies near you.

1Data as of June 2020.
2When you get care from Kaiser Permanente providers.
3Kaiser Permanente 2019 HEDIS® scores. Benchmarks provided by the National Committee for Quality Assurance (NCQA) Quality Compass® and represent all lines of business. Kaiser Permanente combined region scores were provided by the Kaiser Permanente Department of Care and Service Quality. The source for data contained in this publication is Quality Compass 2019 and is used with the permission of NCQA. Quality Compass 2019 includes certain CAHPS® data. Any data display, analysis, interpretation, or conclusion based on these data is solely that of the authors, and NCQA specifically disclaims responsibility for any such display, analysis, interpretation, or conclusion. Quality Compass® and HEDIS® are registered trademarks of NCQA. CAHPS® is a registered trademark of the Agency for Healthcare Research and Quality.
4When appropriate and available.
5When you get care from Kaiser Permanente facilities.
6See note 5.
7To use the Kaiser Permanente app, you must be a Kaiser Permanente member registered on kp.org.
8The services described are not covered under your health plan benefits and are not subject to the terms set forth in your Evidence of Coverage or other plan documents. These services may be discontinued at any time without notice.