Tips for working moms-to-be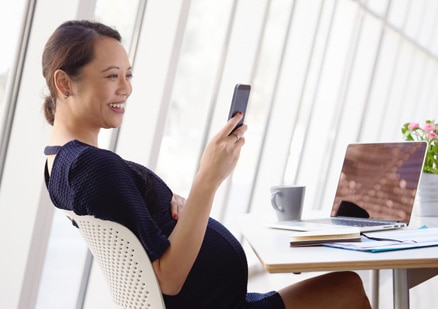 Many women with healthy pregnancies work right up to their due date. For some, it's a choice. For others, it's a necessity. If you're going to be working during your pregnancy, these simple tips can help you stay safe and comfortable — and get your work done.

Managing morning sickness — all day long
The good news is you should start feeling better in your second trimester. Until then, try these tips for relief:
Sip water, juice, or other caffeine-free drinks throughout the day.

Take plenty of healthy snacks to work. Try to eat something every 2 or 3 hours.

Have something with ginger in it, like ginger tea, ginger ale, or gingersnap cookies. Ginger is a natural remedy for nausea.
Fighting fatigue
Being pregnant is exhausting — especially during the early months. Try these tactics to keep your energy up:
Keep a water bottle with you and drink from it all day long.

Take breaks when you can.

Rest during your lunch hour.

Keep up your exercise routine — it will help boost your energy.

Get to bed early.
Sitting or standing all day can be tiring, too. To give your body a rest:
If you sit at a desk, stand up and walk around as much as possible.

If you stand all day, sit down when you can and put your feet up.
Staying safe
Listen to your body. If you have a strenuous job or work around anything that could be toxic to you and your baby, you'll definitely need a temporary reassignment. Talk to your doctor first, then talk to someone from your HR department to come up with a safe, workable solution. No matter what:
Avoid dangerous fumes, chemicals, and extreme temperatures.

Avoid tobacco smoke.
Taking time off
When you're ready to tell your manager you're pregnant, schedule a proper meeting. Be precise about when you need to stop working and when you plan to return. Find out what your company's official maternity leave policy is and make it work for you.