Find your healthy weight
with a balanced approach
Losing weight can be a challenge. And when it comes to weight loss, there's no one-size-fits-all approach. But by balancing nutrition, exercise, and a healthy lifestyle, you can be more successful at finding your healthy weight.
Make a change today for a better tomorrow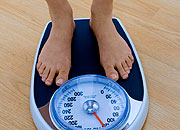 Balance is an online resource to help you work toward a healthier weight. With a personalized action plan based on your behavior and lifestyle, you'll get the support you need to build new, healthy habits.
What's included in Balance?
First, you'll fill out a comprehensive questionnaire. Then you'll get recommendations based on your responses, and you can start building skills with exercise videos, goal-tracking tools, recipes, and more. To keep you on track, you'll get regular emails supporting and encouraging you and your new behaviors.
If you can't finish the program all at once, you can save your spot and pick up where you left off.
---
Tried Balance and want to learn more about weight management? You'll find information about healthy weight loss techniques, mindful eating, and more in our healthy weight center.
To see the various weight management classes and programs Kaiser Permanente offers, search the health class directory to find a program near you.
---
Revewed by: Mark Groshek, MD, April 2016
© 2016 Kaiser Permanente