Diabetes
Make simple lifestyle changes
Care for Diabetes is customized specifically for you, to help you lead a healthier, more active life with diabetes.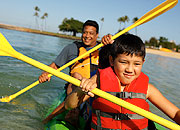 Care for Diabetes will assess your daily routine and general health, then give you ways to manage diabetes more effectively. In fact, 90 percent of participants say they are able to manage their diabetes better after completing the program.*
When you finish the questionnaire, you'll receive an action plan and tools matching your preferences, your individual ability, and your level of commitment.
If you aren't able to finish the program all at once you can save your spot, then pick up where you left off when you return.
Tried Care for Diabetes and want to learn more about living with the condition? Find information about eating well with diabetes, staying healthy, and more in our diabetes center.
---
* Kaiser Permanente Johnson & Johnson Health and Wellness Solutions Outcomes, December 2015.
Reviewed by: Mark Groshek, MD, April 2016
© 2016 Kaiser Permanente