Reduce stress
Proven strategies for relaxation
Stress can take a toll on your health. Symptoms can include:
irritability and depression
But with the right strategies, you can feel more in control and face challenges with confidence.
Learn healthy coping skills 
Relax is an online resource to help you fight stress in healthy ways. You'll identify what's important in your life, see what causes your stress, and learn strategies to manage the symptoms.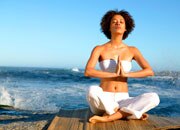 What's included in Relax?
First, you'll fill out a comprehensive questionnaire. Then you'll get recommendations based on your responses, and you can start building skills to form healthier habits. This program is personalized based on your values, priorities, and lifestyle. To keep you on track, you'll get regular emails supporting and encouraging you.
If you can't finish the program all at once, you can save your spot and pick up where you left off.
---
* Kaiser Permanente Johnson & Johnson Health and Wellness Solutions Outcomes, January 2018.
Reviewed by: Mark Groshek, MD, January 2018