Classes and resources available to you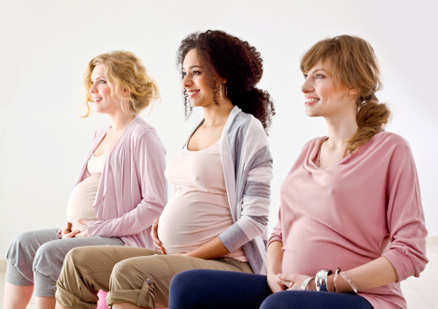 Step into the journey of pregnancy and parenthood with confidence. Our educational programs let you connect with other parents while you learn about pregnancy, labor, birth, breastfeeding, baby care, safety, and parenting.
Some programs are open to non–Kaiser Permanente members, too. Call 1-800-777-7904 (TTY 711) for more information.
Prenatal 1 class: Have a healthy pregnancy
Learn how to care for yourself during your pregnancy and how a healthy lifestyle, plus good nutrition, plus exercise all add up to a healthy pregnancy. Attend as early in your pregnancy as possible to give your baby a healthy start!
One 2½-hour session
No fee 
Prenatal 2 class: What to expect during labor & delivery
Learn about what to expect leading up to the birth of your little one. You'll discuss the changes your body is going through and learn tips on how to minimize discomforts of late pregnancy. You'll see and discuss an informative birth video and also learn how to tell when you're in labor, what to take to the hospital, and much, much more.
One 2½-hour session
No fee
Prenatal 3 class: Baby care basics
Wouldn't it be nice if babies came with instruction manuals? This program might be the next best thing. Learn about diapering, bathing, daily baby care, reducing the chance of SIDS, baby products, calming a fussy baby, and helping your baby sleep peacefully.
One 2½-hour session
No fee
Maternity tour
Join guided group walking tours of Greater Baltimore Medical Center. You'll get a preview of what to expect when it's time to have your baby, including information about where to park, where to enter the hospital, visiting hours, and services available to you and your family. Register for a tour here.
A 1-hour walking tour
No fee
The basics of breastfeeding 
Your baby's health begins with good nutrition, and breastfeeding offers a number of health benefits to both you and your baby. Learn about breastfeeding positions, milk supply, preventing and managing pain, pumping, milk storage, and working while breastfeeding. This program is open to expectant mothers and their partners or support people.
One 2½-hour session
No fee
AAA child passenger safety
Learn how to correctly secure your new baby in a car seat. A certified technician will show you the proper safety techniques for infants to children up to 8 years old.
Learn more about classes at Greater Baltimore Medical Center
Newborn care center
A healthy birth is just the start of our commitment to your baby's well-being. Kaiser Permanente offers enhanced well child visits and lactation consulting for new mothers and our newest members. Before you leave the hospital, your pediatric team will schedule an appointment for you and your baby to visit the Newborn Care Center, one to three days after you are discharged.
During this visit, your baby will receive a complete check-up. This includes a weight check and physical assessment, as well as information and guidance on common newborn matters, including:
Jaundice

Gas/colic

Cord care

Circumcision care

Immunizations

Problems that require a call to the doctor
Our Newborn Care Center staff are certified Lactation Consultants, and will happily answer your questions about breastfeeding. You may also request to receive a personal breast pump on this visit. The Newborn Care Center Lactation Consultant will walk you through the device and answer any questions you may have about pumping.
During this initial visit, the Newborn Care Center provider can also schedule follow-up appointments for you and your baby, as well as visits with your pediatrician if necessary.
If you have any questions about your visit, or would like to speak with a Lactation Consultant at any time, please call the following number:
Washington, DC and Suburban Maryland: 866-264-4766
Northern Virginia: 703-922-1469
Baltimore: 410-737-5464
How to register for an educational program
A complete calendar of classes is available at kp.org  (click on Health & Wellness)
Unless otherwise noted, register by calling our Appointment Center at 1-800-777-7904 (TTY 711).
Please register at least 3 to 4 weeks before the start of the program. Educational programs are available in English and Spanish.